Save money on Hot Water with a Heat Pump!
All of us want hot water on tap that doesn't cost the earth to create. That is why we recommend the use of a hot water heat pump instead of a gas storage, gas continuous flow, solar or electric storage hot water system in your home. Did you know that a heat pump extracts renewable thermal (heat) energy from the air and transfers it to the water in the storage tank ready for you to use when needed.
The magic of a hot water heat pump
Just like an air conditioning system you use to heat your home a hot water heat pump extracts FREE renewable thermal (heat) energy from the air and transfers it to the water in the hot water tank. To undertake this process the hot water heat pump uses electricity. 
The great thing (aka magic) of a quality heat pump is that you get out more than you put in. In the below example you will see that we have 1 kW of electricity going into the heat pump, it is extracting 4 kW of free heat from the air and then transferring 5 kW of heat to your hot water. In this example that would mean we have a COP (Coefficient of Performance) of 5.  A heat pump is one of only things that you can put something in (electricity) and get a greater return from (heat energy).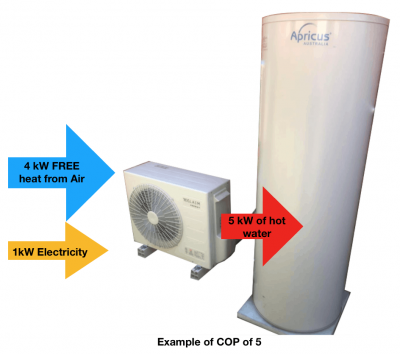 If we wouldn't install it on our own home we won't install it on yours, its that simple. 
That is why unlike many other hot water specialists we don't offer every manufactures heat pumps on the market plus if a heat pump isn't what you are looking for or you are not sure yet we are not going to down sell you to another system just to make a sale. 
  We don't offer electric storage systems, we don't offer solar hot water systems and we defiantly don't offer gas systems. What we do offer is tried and tested heat pumps that will give you peace of mind and save you money now and into the future. For that above reason we are proud to stand behind the products we offer the Reclaim Energy Co2heat pump and the Apricus R290 All in one heat pump for residential and small commercial applications and the Mitsubishi Heavy Industries Q-Ton Co2 range of hot water heat pumps for larger commercial applications
Apricus All in one
Reduce energy costs up to 3 times compared to conventional electric and gas water heaters.

R290 natural refrigerant with zero global warming potential compared to synthetic.

Smart touch screen controller makes optimising the system easier than ever.


Reclaim Energy
The Reclaim Energy CO2 Heat Pump is the ultimate in hot water heat pump technology with its Japanese built heat pump that utilises an ozone friendly CO2 to give you all the hot water you need.

* Whisper quiet
* Highest COP's
* Smart Controller
* No need for a boosting element
* Quick recovery
Q-Ton
The highly efficient Q-TON commercial hot water heat pump from Mitsubishi Heavy Industries is an air-to-water heat pump that utilises environmentally friendly CO2 as a refrigerant. The Q-TON heat pump has been featured as the world's first two-stage compressor (combining rotary and scroll technology). It maintains high efficiency and significantly improves performance at cold outside air temperatures.

* Hot water up to 90 degrees Celsius
Adelaide Heat Pumps web enquiry form
Please fill in your details below and we will be in contact shortly.
Or call us direct on (08) 8312 5969 and chat to one of our hot water heat pump system Adelaide Specialists.
Low cost and free hot water?
A heat pump hot water system offers great flexibility in regards to the electricity source or tariff you use with it. If you have solar PV you can eat your hot water during the day to maximise self consumption and reduce the electricity use from the grid. If you don't have solar PV or are still on a high feed in tariff you have the option to run on cheaper overnight J Tariff. 
In South Australia there is currently talk of new off peak or solar sponge tariffs that will potentially provide lower cost electricity at certain times of the day. A heat pump is a future proof solution that will put you in a position to enjoy lower energy usage and costs.
Reasons you may want a Heat Pump from Adelaide Heat Pumps
Is you hot water going cold? 
Don't want to have cold showers?
 Is there water coming out of your hot water system?
Has the case split on your hot water tank? 
Are your hot water heating costs very high? 
Do you want cheaper hot water?  
Do you want to use your Solar PV to heat your hot water?
Do you want to use up to 80% less electricity for you hot water?
Want to get off gas?
Do you want to use natures renewable energy to heat your hot water?
Hot Water heat pumps kept in stock in Adelaide
5 star reviewed service
If you answered yes to any of the above questions we can help you replace you old hot water system with a new heat pump Hot Water system Adelaide! 
Adelaide Heat Pumps can supply you with a quality and efficient heat pump hot water system Adelaide. If your hot water in not working we can help. We can swap your electric hot water system, gas hot water system, solar hot water system for one of our efficient hot water heat pumps. Our focus is on providing only the best quality hot water solutions. 
Start saving money on your hot water heating today.
Do you have Solar PV? You could be heating your hot water for free by using power generated onsite by your solar PV. Adelaide Heat Pumps can provide a hot water heat pump with a timer so that you can set when it heats.
SAVE money on your hot water starting today!
Call now on 08 8312 5969 to get advice on a heat pump system that suits your needs.